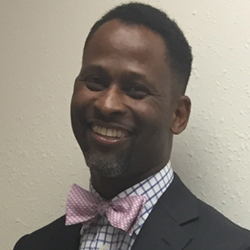 Willie Burroughs
Chief Operations Officer
San Antonio ISD
– Previous Speaker Page – 
Willie Burroughs was a featured speaker at K12 Facilities Forum '18.
 Willie Burroughs is the Chief Operations Officer for the San Antonio Independent School District accountable for child nutrition, transportation, and facilities (maintenance and construction). He received his B.S. in Industrial Engineering (1992) and an MBA (2001) from Clemson University in South Carolina. He was also commissioned as a 2nd Lieutenant into the United States Army Signal Corp (1992). Willie worked for 11 years in a number of leadership roles in manufacturing for Cooper Industries. Roles included, but were not limited to Materials Analyst, Manufacturing Engineer, Manufacturing Supervisor, Production Manager, Project Manager, and Operations Manager. After a successful career in manufacturing, Willie made the transition to the service industry where he was employed by Aramark as General Manager for maintenance operations with the Houston Independent School District (HISD).
After five years of service with Aramark, Willie became an employee directly with the HISD where he served in a number of capacities including, but not limited to General Manager of Construction Services (Bond), Senior Manager of Contract Administration, and Senior Manager of Special Projects. Willie served the HISD for nearly 11 years before joining the Dallas Independent School District (DISD) as Executive Director with responsibilities for maintenance, HVAC, grounds, environmental services, custodial, capital improvement, and energy management, where he served for three and a half years.