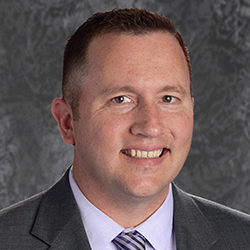 Travis Palangi
Executive Director of Facilities & Operations
Olathe Public Schools
– Previous Speaker Page – 
Travis Palangi was a featured speaker at K12 Facilities Forum '18.
 Travis currently serves as the Executive Director of Facilities and Operations and Staff Architect for Olathe (KS) Public Schools. Olathe Public Schools is the second largest district in Kansas with over 30,000 students and more than 80 facilities. His responsibilities include new construction, facility improvement construction, maintenance, grounds, energy management, ADA compliance, custodial services, and warehouse operations.
Travis oversees the Bond Issue and capital/facilities improvement program in the district, notably the recently passed $156 million dollar bond issue that included a new middle school and major renovations to other existing facilities within the district. He is also overseeing the design & construction of a new elementary school that was part of a previous Bond Issue. Travis also worked on the recently completed Olathe West High School, a new school designed around a flexible based learning environment.
Travis is a registered architect in Kansas and received a Bachelor of Architecture Degree from Kansas State University. He has solely focused on educational projects since graduating college. He served as a Consulting Project Architect on various Public K-12 School projects prior to accepting a position at Olathe Public Schools. He began his service at Olathe as their Design & Construction Manager in 2014. Travis has been a part of the design and construction of over 10 new schools and various other K-12 projects over his 18 year architecture career.
Travis is a member of the American Institute of Architects, the Olathe (KS) Chamber of Commerce, National Council of Architectural Registration Boards (NCARB) & a former Board of Director/ Vice President of the Down Syndrome Guild of Greater Kansas City.