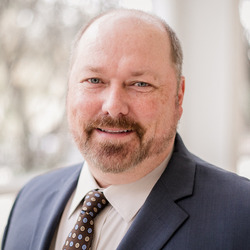 Tim McClure
Assistant Superintendent, Facilities
Northwest ISD
Tim McClure is an experiential learner, extrovert, problem solver, and collaborator. Tim's experience in construction and architecture spans more than twenty-five years, with established proficiencies in construction experience, architectural practice, and school operations. He is extremely passionate about positively impacting the learning environment and has a relentless commitment to making educational environments impactful and engaging.
Tim is a sports fan, music enthusiast and loves to have fun with friends by playing golf, fishing, and hunting. Most of all, he believes in surrounding himself with great people who challenge and sharpen each other as lifelong learners.
Currently, Tim is responsible for the non-instructional operations of Northwest ISD. His areas of responsibility include maintenance services, custodial services, transportation, food service, building performance, energy management, safety and security, demographics, and construction. Tim also provides future planning for the growth of Northwest ISD, including site purchases and programming.
Tim's strengths shine the brightest when he is leading efforts toward long-range facility planning. Tim has successfully led many efforts toward bond planning by understanding aging facilities, current needs, growth patterns, the district's vision, and, ultimately, the fiscal burden of the taxpayer. He constantly strives to make a difference in learning environments that will positively impact students.