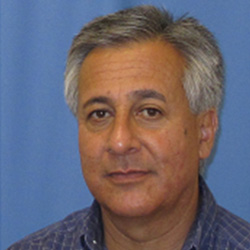 Steve Gallegos
Chief of Police
Albuquerque Public Schools
– Previous Speaker Page – 
Steve Gallegos has been a law enforcement officer for 37 years, having graduated from the Albuquerque Police Department Academy in January 1982.
Steve began his 20 year career at the Albuquerque Police Department (APD) in the Field Services Division as a patrol officer. During his tenure, he also worked in the Traffic Unit, and eventually began what would be his focus for the balance of his career with APD:  Investigations. This included Armed Robbery, White Collar crimes, Crime Stoppers, and Homicide.
Upon retirement from APD in 2001, Steve began working in the private sector as a civil investigator.  His clients included the City of Albuquerque, various New Mexico municipalities and private attorneys, to mention a few.
After working in the private sector for approximately five years, in 2016 Steve began employment with Albuquerque Public Schools (APS) as a Detective. He was soon promoted to Sergeant, then Lieutenant, Deputy Chief, and in 2014 became the Chief of Police.
As Chief of Police, Steve supervises 58 sworn officers, and 110 civilian employees performing duties in Campus Security, Dispatch/Communications, Evidence, Camera/Video Surveillance, Fingerprinting and Background, and Restorative Justice.
One of Steve's main focuses when he became chief was to ensure that the APS Police Department was run in a professional manner, with the safety of students and staff and security of facilities being the priority; accomplishing this while adhering to district policies and strict confidentiality requirements. He was well aware of the importance of guiding the department in a manner that balanced law enforcement with an understanding and compassionate mentorship role.