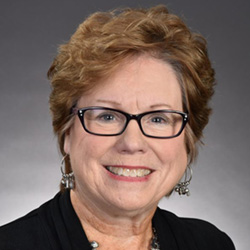 Starr Hermann
Director of Consulting
Nashville Hub
– Previous Speaker Page – 
Starr Hermann was a featured speaker at The K12 Facilities Forum'19.
Starr Hermann, a native Nashvillian and career educator, led the design and implementation of the nationally recognized Academies of Nashville, which now serve more than 16,000 students in Metro Nashville Public Schools. This innovative and ambitious redesign of 12 traditional high schools required a reimagining of structures and processes, the use of time on instruction, instructional practices, professional development, and learning environments. Now in its 14th year, students in the Academies of Nashville learn in an engaging environment where they can apply learning that is tailored to their interests and talents. The Academies of Nashville are now part of the DNA of high schools in the city, with generous guidance, partnership and support from hundreds of business and community partners as well as city leaders and policymakers.
As a former CTE teacher, Starr recognized the invaluable role that school facilities play in order for students to learn and practice 21st Century skills, and pushed to ensure there were state of the art classrooms and labs, with authentic equipment, that prepared students for success beyond high school. Starr was able to deploy industry experts to advise and support the creation or adaption of these classrooms.
In her current role, Starr now serves as Director of Consulting for the Nashville Hub, and is a community coach for Ford Next Generation Learning. She has coached communities through transforming their high schools in over 20 districts across the United States, as well as in the United Kingdom and Scotland.