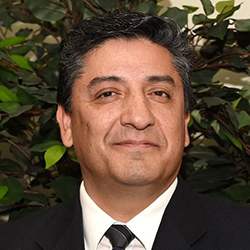 Sergio San Martin
Assistant Superintendent of Operations
Riverside USD
– Previous Speaker Page – 
Sergio San Martin was a featured speaker at K12 Facilities Forum '18
Read a summary of his session here.
 Sergio San Martin joined the Riverside Unified School District (RUSD) on July 1, 2016, from the Moreno Valley Unified School District (MVUSD), where he served as the District's Director III of Facilities Planning and Development. Sergio has over 20 years in education in the area of Facilities and has earned his Master's Degree in Community Development, from California State Polytechnic University. He received his Certification of Educational Facilities Planning, from the University of California, Riverside.
Sergio comes with a wealth of knowledge with regards to accounting, planning, and development of District Capital Facilities Funds and Budgets. He is a member of the American Planning Association (APA), Coalition for Adequate School Housing, and the Association of California School Administrators (ACSA).
At MVUSD, Sergio managed the planning and development of new construction, modernization, and renovation of local and state funding projects. He also oversaw the preparation of all State funding applications, expenditure reports, demographic analysis, enrollment projections, developer fee reports, and supervised the District's CAD & geographical information systems (GIS).
Sergio has worked in neighboring school districts such as Anaheim City School District as the Senior Facilities Planner and Santa Ana Unified School District as the Assistant Director of Facilities & Governmental Relations.