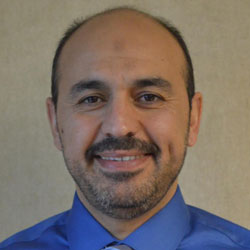 Samer Alzubaidi
Director of Facilities Planning & Development
Moreno Valley USD (CA)
– Previous Speaker Page – 
Samer Alzubaidi was a featured speaker at K12 Facilities Forum '17.
Samer Alzubaidi joined the Moreno Valley Unified School District in November of 2016 as the Director of the Facilities Department. From March 2008 until November 2016, Samer served as the Director of Facilities at San Bernardino City Unified School District, where he supervised approximately $1.0B program consists of the construction of 8 new schools, modernization of 55 schools, 20 SDC buildings, 6 ORG buildings, energy & security projects, stadiums & synthetic fields, etc. Samer has great passion for Schools, he believes Schools are the pillars of our community, and he enjoys every aspect of his job especially the noble cause when he feels that Facility Department plays essential role in adding value and contributing to the education of students by building new Schools and improving existing facilities in order to ensure healthy school environment. He has a successful approach and solution to complicated matters through comprehensive team work. Samer finished his CBO – through CASBO mentoring program Cohort #13.
Before Samer joined SBCUSD, he was a Senior Project Manager at Vanir Construction Management. While at Vanir he was responsible for new construction and modernization projects at several school sites. Prior to working with Vanir he was a self-employed Contractor. Samer started working in construction since 1993.
Samer graduated with a BS.C. Degree in Civil Engineering and received his Master's Degree in Construction Engineering from Cal State Fullerton. He is a member of the Construction Management Association of America (CMAA) and the California's Coalition for Adequate School Housing (C.A.S.H.). Samer finished the Educational Facilities Certificate from UCR in 2015.
Samer has been happily married for 17 years and has three children ages 16, 13 and 11. He enjoys swimming, soccer, and reading. His favorite soccer team is Manchester United. Samer is currently reading books about leadership.
Fun Fact: In his spare time, Samer teaches (every quarter) two nights a week at Cal Poly Pomona. The classes he teaches are all construction related (construction cost control, scheduling, contracts, Inspection, Safety, etc.).