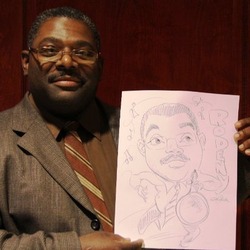 Rodney Williams
Director of Energy & Sustainability
Newark Public Schools
Serving 35 years working for New Jersey public schools, Rodney Williams is a sustainability leader who has made immeasurable contributions to advancing solutions in school facilities that save energy and money. Rodney is currently the Director of Energy and Sustainability for the Newark Public Schools' Office of Facilities Management. From 2017-19, the district saved nearly $1.9 million from energy efficiency projects. Rodney's technological knowledge and strategic approach has reduced the district's carbon footprint while enabling Newark Public Schools, the state's largest school district, to become innovators using school facilities to promote green technology in the building, classrooms, and the community. Rodney is also a certified Sustainable Facilities Professional (SFP) with the International Facilities Management Association, an accomplishment of which he is proud.
In 1988, Rodney was hired as a thermostat mechanic by Newark Public Schools. "I started in the tunnels with the pipes and worked my way up to be a leader in the boardroom," Rodney said. A natural manager of people with an engaging personality, he has an expert understanding of facilities and the focus to see projects to completion. He manages 400 utility meters throughout the district's 70 plus facilities. With a great team of colleagues, Rodney is quick to credit the accomplishments to others. "Sustainability is an achievable goal. But it must be a team effort. Community partners like PSEG, Newark Public School staff, students, parents, and educators are working together to achieve sustainability in Newark."
Newark Public Schools embarked on one of the largest solar projects of any urban school district in New Jersey and was the first district to incorporate geothermal heating and cooling as well as ice storage in an urban environment. Thanks to Rodney's leadership, 61 schools in Newark School District were certified with the Sustainable Jersey for Schools program in 2020 and the district received the 2020 Sustainability Makes $ense Award, and he was voted the November 2020 Sustainability Hero by the Sustainably Jersey for School's Organization. Currently Rodney is managing the largest ESIP (Energy Improvement Program) for K-12 schools in the state of New Jersey.  This program will bring the district 100 million dollars of much-needed energy measures.