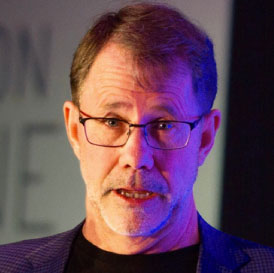 Rex Miller
Principal & Thought Leader
MindShift
– Previous Speaker Page – 
Rex Miller was a featured speaker at the K12 Facilities Forum '17. Read a summary of his session here.
 Rex Miller is an award winning author, internationally respected futurist, executive coach and compelling speaker. In his new book Humanizing the Education Machine, he explores why the U.S. education system is perfectly designed to create disengaged teachers and students. He makes clear the threat to our kids and nation of perpetuating a Gutenberg approach to learning in a Google world of opportunities and challenges.
The learning environment has become a key lever and constraint to transformation. 80% of new school projects are still being designed the way Boomer's were educated. 50,000 existing schools need to be modernized. Combining the work from Change Your Space, Change Your Culture, Rex will share research about the power of creating micro-environments along with the Golden Triangle of teacher, technology and classroom as a powerful agent of transformed learning.
Rex has invested over 10,000 hours of research and hands-on experience working with more than 100 business leaders, educators and community leaders over the last decade. Traveling together these leaders met in city after city discovering positive outliers who defy conventional wisdom and hold the keys to creating inspired learners prepared for a Google world.
Your community and school can become a platform for future ready kids who are life-long learners. This presentation will explain how to begin and how to succeed.
Rex has won international awards for two previous books, The Commercial Real Estate Revolution and Change Your Space, Change Your Culture. He is also the author of The Millennium Matrix, an innovative system for anticipating and adapting to the future.
Rex's clients include Google, Disney, Microsoft, GoDaddy, Intel, the FAA, Delos, Haworth, Turner Construction, Balfour Beatty Construction, DPR Construction, Gensler Architects, IA Architects, MD Anderson Hospital, Universal Health Systems, Oregon Health Science University, the University of Illinois, Texas A&M, the University of Denver and many others.