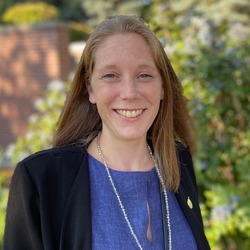 Phoebe Beierle
Senior Manager of Programs
Center for Green Schools
Phoebe Beierle is the Senior Manager of Programs at the U.S. Green Building Council's Center for Green Schools, where she leads educational program strategy for more sustainable, resilient, and healthy schools. Specifically, Phoebe supports the School District Sustainability Leaders' Network, now representing 300 sustainability staff working at K-12 school districts across the country, through unique tools, best practice education, research, and leadership development programs. Phoebe leans on her knowledge of industry best practices and experience with green building design and sustainable operations, which she built during her five years as Sustainability Manager at Boston Public Schools.
From 2011-2014, Phoebe served as a Green Schools Fellow with Boston Public Schools (BPS) and then as the Sustainability Manager with the district's facilities department until 2016. While at BPS, she successfully leveraged $1 million in grants, sponsorship, and donated services that supported the greening of Boston's 130 schools. Phoebe oversaw and implemented district-wide recycling, green cleaning, and water access policies; launched student engagement initiatives using hands-on audits to save energy and money; and impacted building renovation standards. Phoebe's work has also influenced Massachusetts school construction policy, resulting in state-wide high-performance green building standards and millions of dollars in reduced operating expenses for communities across the commonwealth.
In her free time, Phoebe can be found advocating for greener buildings and communities locally. She is a founding member of Built Environment Plus (formerly USGBC MA) and an active volunteer with several sustainability committees in her town. When it's time to relax, you will find Phoebe gardening, cooking, or exploring the outdoors with friends and family.