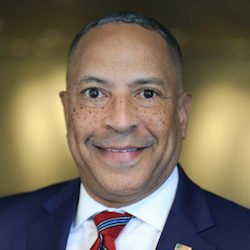 Oz Hill
COO
Philadelphia Public Schools
Oz Hill joined the Operations team two years ago and currently serves as the Chief Operating Officer for the School District of Philadelphia. In this role, he oversees the Offices of Capital Programs, Environmental Management, Facilities and Maintenance, Facilities Planning, Fire and Life Safety, Food Services, and Transportation Services. As one of the largest urban school districts in the country, Philadelphia is responsible for 329 school facilities, including 217 district-operated facilities, 83 charter schools, and 29 alternative education programs.
Oz is a product of Hillsborough County Public Schools in Tampa, Florida. He is an executive-level operations, policy, and plans professional with more than thirty-five years of experience. Most of his career was spent leading and managing multi-disciplined teams and organizations in complex public institutions and dynamic private enterprises. A former U.S. Army Officer with twenty years of honorable service to the nation, he also brings relevant operations experience and expertise as a former Senior Director for the City of Atlanta, a Senior Adviser to the Afghanistan First Deputy Minister of Defense, and the State of Illinois COVID Joint Task Force, Statewide COVID Vaccine Distribution Field Operations Manager.
His service to the community over the years includes the City of Sandy Springs (GA) Board of Zoning Appeals, Atlanta-Fulton County Atlanta Land Bank Authority Board, Atlanta Public Schools – Partners In Education (Barack and Michelle Obama Academy), Veterans of Foreign Wars, Rotary Club of Sandy Springs (GA), and the Colorado Black Health Collaborative. Oz is also a STEDI.org certified substitute classroom teacher.
Oz possesses a Master's degree in Public Administration, and he is a U.S. Air Force Command and Staff College graduate. Oz is the proud father of four daughters.