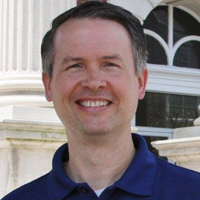 Mike Wilson
Director of Facilities
Warren County Schools (KY)
– Previous Speaker Page – 
Mike Wilson was a featured speaker at K12 Facilities Forum '17.
 Mike Wilson was appointed Director of Facilities for Warren County (KY) Public Schools on April 8, 2015.
As a native of Warren County and a graduate of Warren County Public Schools, Wilson has a desire to see the students of the district grow academically, athletically and socially. To this end, he strives to see that the Facilities Department delivers exceptional service to all 16,000 plus students and the 2,500 adults who serve them each day. His wide range of work experiences help him meet and exceed expectations daily.
He is a 1990 graduate of Western Kentucky University located in Bowling Green, Kentucky. He graduated Cum Laude with a double major in Economics and History.
Prior to coming to work with WCPS, Wilson served as a sales representative focused on exceptional customer service. He represented a wide range of companies, which included direct business sales, pharmaceutical sales and insurance sales.
Wilson had a direct relationship with Warren County Schools for twelve years as a member of the Warren County Board of Education. He served as Board Chair or Vice-Chair for ten of his twelve years. During his tenure on the Board, Wilson helped oversee the construction of seven new schools including a high school, a middle school and five elementary schools. The District also renovated three middle schools and two elementary schools during this time of service. Included in the new construction was the nation's first "net zero" school, Richardsville Elementary School.
In addition to his service on the Warren County Board, Wilson is active in his community through his leadership at one of the largest churches in the state of Kentucky, Living Hope Baptist Church where he served as deacon and elder. He has also been active in local Parks and Recreation activities where he has volunteered as a basketball and soccer coach. Additionally, he served as a Board member of the Kentucky School Board Association from 2010 to 2013.
He and his wife Lori reside in Bowling Green, Kentucky with their three children. All three children attend Warren County Public Schools.