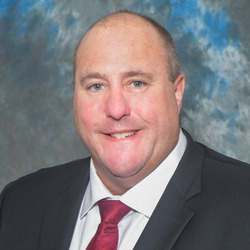 Mike Eaton
Chief Operations & Building Security Officer
San Antonio ISD
Michael Eaton is the Chief Operations Officer at San Antonio Independent School District (SAISD). He joined the SAISD in November of 2022 and oversees the district teams responsible for transportation, child nutrition, facilities, planning, construction, and security systems. He is also leading the team responsible for delivering on the $1.2 billion capital improvement bond that has allowed SAISD to upgrade their facilities and ensure we are providing quality learning environments for our scholars.
The SAISD is one of the larger urban school districts in Texas serving 43,000 students across 90 schools. Prior to joining SAISD, Mike was the Chief of the Department of Climate and Safety for Denver Public Schools (DPS). The DPS is the largest school district in Colorado serving over 91,000 students and 15,000 employees across 208 schools. Mike's responsibilities included leading approximately 145 officers and administrative professionals who provided 24/7 safety and security services to the district. He was also responsible for the planning, coordination, and implementation of all access control, video surveillance, emergency management, and other safety-related programs throughout the district.
In 2021, Mike was the Interim Deputy Chief Operating Officer for DPS during a transitional time and led operational teams in safety, transportation, facilities, enterprise management, planning, design, and construction. Prior to joining DPS, he was the Director of Safety and Security at Johnson & Wales University where he was responsible for safety and security operations, parking, and emergency management.
He currently holds a Master of Public Administration (MPA) degree from the University of Colorado and a B.S. in Criminal Justice from Johnson & Wales University. He is a graduate of the Aurora Community College Police Academy and previously held a Peace Officer Standards and Training Certification for the State of Colorado. Mike is the past President of the Colorado Association of School Safety and Law Enforcement Officers where he served in that role for over six years.