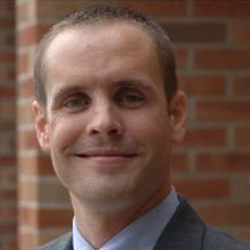 Michael Raisor
Chief Operations Officer
Jefferson County Public Schools (KY)
– Previous Speaker Page – 
Michael Raisor was appointed Chief Operations Officer of Jefferson County Public Schools on March 12, 2012.
Having a true passion for leadership and innovation, Dr. Raisor is a proven change agent and dynamic leader. He has a breadth and depth of experience and knowledge across the K-12 Spectrum. He is a Lean Six Sigma Black Belt with strong business foundation in Operational Excellence and change management. Above all, Dr. Raisor is a relationship-builder with track record of success at all levels.
Prior to coming to Louisville, Dr. Raisor was Executive Director for Operational Excellence at the Evansville Vanderburgh School Corporation in Evansville, Indiana. He has served as a teacher and coach; assistant principal, principal, project manager and Deputy Chief Operating Officer throughout his career.
Dr. Raisor earned his bachelor, educational specialist, and doctoral degrees from Indiana State University. His master's degree in educational leadership was earned from Indiana University. Dr. Raisor additionally holds a master's degree in business operational excellence from The Ohio State University.
He is also an alumnus of Harvard Graduate School of Education's National Institute for Urban School Leaders, Harvard Business School's Public Education Leadership Project, The University of Virginia's Turnaround Leadership Program, Georgetown University Executive Management Program, and the Leadership Excellence Program at Disney Institute.
He was recognized by the Indiana Association of School Principals as an Indiana Assistant Principal of the year. He is active in Phi Gamma Delta fraternity as an alumni volunteer; having served in various state and national leadership positions and committees. Raisor serves on the Presidential Advisory Board at Indiana State University, as well as locally on the board Louisville Asset Building Coalition. He was also selected by Mayor Fischer to serve as a vice chair on Vision Louisville Project.
An Army Brat, Dr. Raisor lived in both Europe and Asia as a child.  He is married to Renita Brooks Raisor, a high school counselor. Their son, Harrison, is 17 and is a Junior in high school.