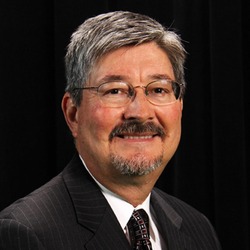 Leroy San Miguel
Assistant Superintendent, Facilities & Operations
Northside ISD
Leroy San Miguel is a long-time facilities and support services administrator. He began his career in public education in 1990 as a construction manager for Corpus Christi ISD. During his tenure, Leroy was responsible for assisting in overseeing the design, planning, and construction of various educational projects which touched every school in the district. He helped in administering two bond programs consisting of approximately $60-70 million per bond. He was promoted to Director of Facilities and Operations, which included administration of maintenance, operations and environmental programs.
In 2002, Leroy came to San Antonio, Texas where he was appointed as the Executive Director of Plant Services for San Antonio ISD. His duties included overseeing and directing maintenance and operations functions. A couple of years later, he was asked to oversee the design, construction, planning, environmental and custodial operations at SAISD.
In 2009, Leroy moved to Northside ISD as the Executive Director of Facilities and Engineering. Subsequently, in 2011, he was appointed as the Assistant Superintendent for Facilities and Operations that includes overseeing construction, engineering, maintenance, custodial, environmental, energy, and real estate functions.
In his tenure, Leroy has implemented and overseen over $3 billion of bond program work, improving hundreds of schools and support facilities and building new schools. He has held various leadership roles in several civic and professional organizations and has served on various city-related committees.
Leroy has a bachelor's degree in Environmental Design and a Master's of Architecture from Texas A&M University in College Station.
As he would say, his greatest accomplishment and joy is building facilities that will serve the children of Texas for a bright and prosperous future.