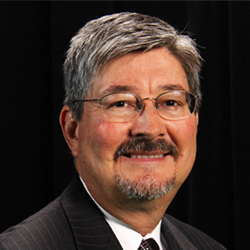 Leroy San Miguel
Assistant Superintendent, Facilities & Operations
Northside ISD
– Previous Speaker Page – 
Leroy San Miguel was a featured speaker at K12 Facilities Forum '18.
 Leroy San Miguel has worked in school district facilities since 1990, and worked for Corpus Christi ISD and San Antonio ISD before joining NISD in 2009 as Executive Director of Construction & Engineering. He was promoted to Assistant Superintendent of Facilities & Operations in summer 2011.
While in Corpus, San Miguel's positions included Construction Manager and Director of Facilities and Operations. In San Antonio ISD, he served as the Executive Director of Maintenance & Operations and the Executive Director of Facilities Planning, Construction, and Operations.
Currently, San Miguel is serving as secretary of the Board of the local chapter of the Council of Educational Facility Planners International. He has a bachelor's degree in environmental design and a master's degree in architecture from Texas A&M University at College Station.
He was born and raised in Corpus Christi, and he and his wife have one daughter.