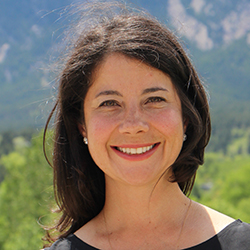 Kiffany Lychock
Director of Educational Innovation
BOULDER VALLEY SCHOOL DISTRICT (CO)
– Previous Speaker Page – 
Kiffany Lychock was a featured speaker at K12 Facilities Forum '18.
Kiffany has been an educator for the past 18 years in various roles and capacities. Ten of those years include classroom experience as a secondary Spanish teacher where she was passionate about engaging students in PBL. She is an AP and IB trained teacher in Spanish and ITGS (an IB course – Information Technology in a Global Society). Kiffany has been an instructional coach in various capacities for the last nine years. Her passion for Project Based Learning and Educational Technology has provided her with opportunities to work at the district level with the IT, Curriculum, and Professional Development departments. As part of her work in PD, she is a STEP Resident Associate for Emergentics and is trained in both Cognitive Coaching and Adaptive Schools.
Her most recent adventure as the Director of Educational Innovations engages her in working collaboratively with schools to lead the transformation of the physical environments and influence the instructional practices of schools to support the teaching and learning of 21st-century skill outcomes. Kiffany also serves as a National Faculty member for the Buck Institute of Education where she is able to facilitate professional learning for leaders, teachers, and schools that are implementing Project Based Learning.