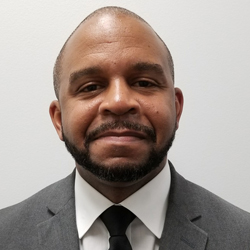 Keith Barton
Executive Managing Director of Operations
Newark Public Schools (NJ)
– Previous Speaker Page – 
Keith Barton was a featured speaker at K12 Facilities Forum '17.
 Keith is currently the Affirmative Action Officer for Newark Public Schools in New Jersey. For approximately 4 years of his 22 years with the district, he served a dual role as the Executive Managing Director of Operations. In this role he was responsible for custodial operations, trades (repair service), design & construction and fixed assets. The facilities department has an 800 person team, an annual budget of approximately $80 million and a capital budget of $30 million.
Prior to this he served in various instructional roles including Supervisor, Special Assistant to two Superintendents, Director of School Support Operations and Principal of a K-8 school with 600 students. While working in these capacities he focused on developing efficient operational strategies, assisted with an overhaul of the district's discipline policy and the measurement of student growth on various assessments.
Keith is state certified as a teacher, principal, superintendent and an educational facilities manager (CEFM). He is nationally certified as an Affirmative Action Professional (CAAP). He is a graduate of Michigan State University (BA) and St. Peter's University (M.Ed.).