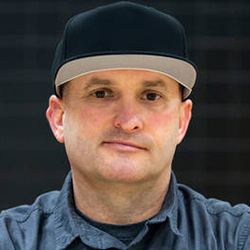 Hamish Brewer
Nationally Distinguished Principal & Author
– Previous Speaker Page – 
Hamish Brewer was a featured speaker at The K12 Facilities Forum '19
Hamish Brewer, the relentless, tattooed, skateboarding principal in Northern Virginia isn't your normal principal. Hamish is high octane, constantly calling on his students to "Be Relentless. Mr. Brewer has become known as an educational disrupter who transcends the status quo and typical educational norms.
Mr. Brewer was recognized in 2017 as the NAESP Nationally Distinguished Principal and Virginia Principal of the year. He has also been recognized as the 2016 VAESP School Bell Award and ASCD Virginia Impact Award. In 2018 Hamish was named a Northern Virginian of the year by Northern Virginia Magazine and the 2018 Principal of the Year for the national publication – Education Dive and Prince William County Public Schools 2019 Principal of the Year.
Under his leadership – his elementary school was recognized as a Nationally Distinguished Title 1 School, and Hamish has since gone on to turn around one of the toughest middle schools in the state of Virginia.
Hamish spent years developing and honing his leadership and expertise as an emergency responder in the Fire and Rescue Service, working at one of the busiest Volunteer Fire Stations on the Eastern Seaboad.
Mr. Brewer is a highly sought-after international keynote speaker – motivating and inspiring audiences everywhere, including being recognized as a TEDx speaker.
Originally from New Zealand where he earned his first degree from the University of Auckland. Mr. Brewer is currently a doctoral student at Virginia.
Mr. Brewer serves at the state level as the Federal Relations Coordinator on the Board of Directors with the Virginia Association of Elementary School Principals. He is a school turnaround and school improvement specialist, working some of the most at-risk students in the United States.
Mr. Brewer was highlighted as a Hometown Hero by Fox 5 in Washington, DC. With more than 32 million views and his story has become a viral sensation being highlighted on all the national news broadcasts, including with NBC and Lester Holt. Mr. Brewer is also being featured in a skateboarding humanitarian documentary Humanity Stoked.