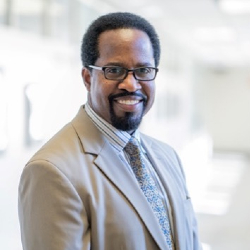 Genard Phillips
Chief of Business Operations
Shelby County
Mr. Phillips is Chief of Business Operations for Shelby County Schools in Memphis TN. He leads a Business Operations organization of over 2,000 employees, an annual operations budget of $203M, and an average annual capital budget of $45M for the largest school district in TN and the 18th largest school district in the nation with over 110,000 students, 214 schools, and ~20M sq. ft. of building space.
Prior to joining SCS in February 2018, Mr. Phillips spent the previous 26 years in the Packaged Media Manufacturing and Distribution industries (Sony, Technicolor) where he served in various technical and operations leadership roles, most recently as Director of Facilities & Engineering and Director of Operations.
Mr. Phillips received his education attending Xavier University of Louisiana (B.S. Physics), Southern University and A&M College (B.S. Electrical Engineering), and University of Arkansas (M.S. Operations Management). Additional skills and training include Lean Manufacturing, Six Sigma Green Belt, Six Sigma Black Belt, American Management Association, Advanced Planning & Scheduling (APS), and Management and Leadership Academy.
Under the leadership of Mr. Phillips, the mission and purpose of the SCS Business Operations team is to provide support services and deliverables to the District in the most efficient and cost-effective manner that enables the District to focus on its core competency of providing the best education possible for students. Business Operations and its departments – Asset Management, Construction, Custodial & Grounds, Facilities Maintenance, Facilities Planning, Nutrition Services, Procurement, Transportation, and Warehouse & Fulfillment – strive to provide world-class business operations that support high student achievement.