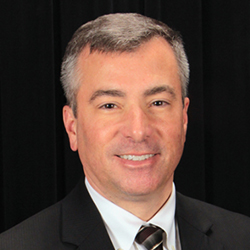 Dr. Brian Woods
Superintendent
Northside ISD (TX)
– Previous Speaker Page – 
Dr. Brian Woods was a featured speaker at K12 Facilities Forum '18.
 Dr. Brian T. Woods, a longtime Northside ISD educator, became Superintendent in July 2012.
Dr. Woods began his career in Northside in 1992 as a social studies teacher at Marshall High School. Woods then helped open O'Connor High School as an Assistant Principal. He was later named Vice Principal and Principal at Clark High. Dr. Woods has also worked in Northside as Assistant Superintendent for Secondary Administration and Deputy Superintendent.
Dr. Woods has a bachelor's degree in political science from the University of Texas at Austin and a master's degree and a doctorate in educational leadership from the University of Texas at San Antonio.
Dr. Woods is Vice President of the Texas Association of School Administrators and is a past Chair of the Regional Advisory Executive Committee for Education Service Center, Region 20. He is a member of the Go Public Steering Committee, the Board of P16Plus Council of Greater Bexar County, and the San Antonio Chamber of Commerce. He also serves as President of the Board of Texas Academic Decathlon and is a member of the Superintendents Advisory Board of the Principals' Institute, the steering committee for Fast Growth School Coalition, the Superintendent's Advisory Council for the Holdsworth Center, and an officer in Texas School Alliance.
Dr. Woods and his wife Meredith have a son who attends a Northside ISD high school.