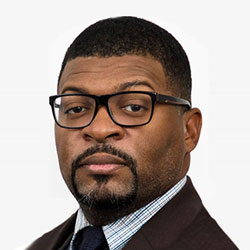 Clarence Carson
Chief Facilities Officer
Chicago Public Schools
Clarence A. Carson, CCA, CCP is a well-rounded and resourceful facilities, construction and real estate development professional with a demonstrated history of working in the multiple industries – Commercial Real Estate, Government / Public, Utility / Power, Multi-Family Residential, Insurance, Healthcare, Higher Education, and beyond at both the project and executive levels. These levels involved skillset development in project management, pre-construction, budgeting / cost control, scheduling, contract negotiations / management, community affairs, audit, diversity & inclusion, risk mitigation, plus technical and relationship building expertise. 
As a third generation legacy in this industry, Clarence is steeped in a hard work ethic, a strong value on education and a secure understanding in the dual importance of field operation efficiency and administrative excellence. Through this exposure, Clarence has participated in both tactical and strategic achievements to meet client targets, and is eager to transition these talents to all new opportunities and challenges. 
Clarence received both a Bachelor's and Master's degree in Construction Management with emphasis in Urban & Regional Planning and Facilities Management, along with being a Certified Construction Professional (CCP) and Certified Construction Auditor (CCA). Currently he serves as the Chief Facility Officer for Chicago Public Schools, the nation's 3rd largest school district at approximately 74M SF. More recently, he has served as a Global Risk Lead Consultant of Allianz Global Corporate Specialty; and President & Lead Consultant of CCRS Group. Other volunteering activities include an IMPACT Fellow & Board Member of the Chicago Urban League in Partnership with University of Chicago Executive MBA Program; both President's Council and Black Creativity Advisory Committee Executive Board Member at the Museum of Science & Industry; The People's Music School Board Member; Co-Founder of the African American Student Mentoring Program (AASMP) at Michigan State University; Alumni Board Member of Michigan State University's Construction Management Program; and last – but not least – Treasurer of McDade Classical Elementary' s PTA. 
Clarence lives in Chicago, where he married and a proud father of two.