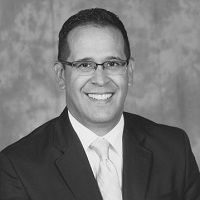 Carlos Gallinar
Executive Director, Planning & Innovative Schools Construction
El Paso ISD (TX)
– Previous Speaker Page – 
Carlos Gallinar was a featured speaker at K12 Facilities Forum '17.
 Carlos Gallinar is the Executive Director for Planning and Innovative Schools Construction at El Paso Independent School District, the largest school district in El Paso with about 60,000 students. In this position he leads a group of engineers, architects, and planners to oversee the districts many projects, to include about $700 million worth of construction projects. These are new and renovated facilities, athletics amenities, and the district's administration relocation to downtown El Paso.
Most recently, Carlos served as the Deputy Director for Planning at the City of El Paso, the 19th largest city in the country. Through Carlos' leadership and advocacy, the city began to redevelop thousands of acres of land into more sustainable and livable developments, implemented a bus rapid transit system, created policies to promote walkable schools, and oversaw the development and implementation of Plan El Paso, a rewrite of the city's comprehensive plan, that Atlantic Cities (City Lab) called "America's Best Smart Growth Plan."
Carlos is a member of the American Institute of Certified Planners and the Congress for the New Urbanism. He holds a Bachelor of Arts from the UTEP and a Master's in City and Regional Planning degree from Rutgers University.