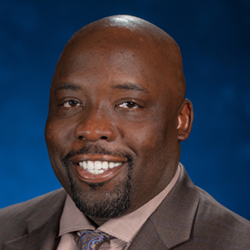 Brian Busby
Chief Operating Officer
Houston ISD
– Previous Speaker Page – 
Brian Busby was a featured speaker at The K12 Facilities Forum'19
Brian G. Busby serves as the Chief Operating Officer for the Houston Independent School District, the nation's seventh largest school district. A 21-year veteran with HISD, Busby has served in his current post since December 2016.
In his role, he oversees an annual operating budget of more than $260 million and leads a workforce of more than 7,000 employees from seven major departments, including construction, transportation, nutrition, police, facilities, support and strategic engagement and outreach.
His oversight includes bond construction programs, totaling more than $3 billion, and a real estate portfolio with more than 30 million square feet of facility space in more than 600 buildings at more than 300 locations spread out over 300 square miles. He also manages a fleet of nearly 1,000 buses that travel more than 15 million miles annually, a food service operation that serves 250,000 meals daily and a public school district police department that is the only one of its kind to be accredited by the Commission on Accreditation for Law Enforcement Agencies.
Busby began his career with HISD just two years after graduating from high school, working as a custodian. He quickly advanced, serving in a variety of departments and positions, including stints as General Manager and later Officer of Facilities Services.
A graduate of the University of Phoenix and the University of Houston, Busby received his bachelor's degree in Business Management and master's degree in Business Administration. He has served as an active member of the Association of Business Professionals, Texas Association of School Business Officials, the Cleaning Industry Association and the Executive MBA National Honor Society. In 2018, he was named as a 40 Under 40 honoree by the Houston Business Journal.