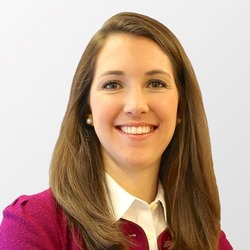 Andrea Swiatocha
Schools Program Manager, State and Community Energy Program
U.S. Department of Energy
Andrea Swiatocha, AIA, LEED AP is a Program Analyst on the Schools and Non-profits Program within the U.S. Department of Energy's (DOE) State and Community Energy Program (SCEP) Office. The Bipartisan Infrastructure Law (BIL) schools provision set aside $500 million to transform decaying public school infrastructure into healthier, more energy-efficient learning environments. Andrea is supporting the administration of the $500 million grant program to schools for high-impact energy efficiency and health improvements as well as innovative energy technology packages.
Prior to her role at DOE, Andrea was the former Deputy Chief of Facilities for DC Public Schools (DCPS). During her time at DCPS, Andrea led the six-year Capital Improvement Plan (CIP), the school modernization and small capital program, and facility management team in collaboration with the Department of General Services (DGS). This critical work ensured that DCPS facilities were meeting the overall DCPS vision of ensuring every student feels loved, challenged, and prepared. Part of her role included leading the program development, educational specifications, community engagement and design approval of a modernization to ensure DCPS was a leader in design and construction for 21st century learning. During her time at DCPS, she opened the first two Net-Zero ready schools (John Lewis Elementary and Banneker High School) as well as the first WELL-Ready certified building.
Andrea started her career as a practicing architect where she focused on educational design, specifically K-12 buildings. Andrea is an advocate for high performance design in student learning environments. She is committed to pushing the boundaries when it comes to improving human health through the design of the built environment.