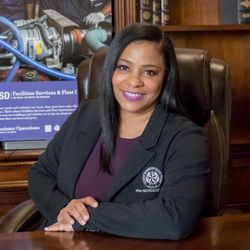 Alishia Jolivette
Executive Officer of Facilities, Management & Operations
Houston ISD
Alishia Jolivette Webber is the Executive Officer of Facilities, Maintenance, and Operations for Houston Independent School District (HISD). She began her career with HISD more than 25 years ago and has served in many capacities and roles.
Officer Jolivette leads a team of more than 2,000 employees and manages a budget of over $70 million. She oversees the district's departments of maintenance for facilities, customer support, energy management and sustainability initiatives, facilities finance, custodial operations, grounds support, security maintenance (fire/burglar alarms, CCTV, intercoms, card access), code compliance, facilities rentals, crossing guards, and other related facilities business areas.
Officer Jolivette is a graduate of the University of Houston – Downtown where she earned her bachelor's degree in business management as well as her Master of Business Administration degree in business management with a leadership concentration. She is an active member of the Americas' SAP Users' Group (ASUG), where she previously served as the Plant Maintenance Special Interest Group Chair for 8 years; the Texas Association of School Business Officials (TASBO); the SAP Enterprise Asset Management Advisory Committee; and the Texas Association of School Administrators Committee. In what she considers her spare time, she is also the USA Track and Field (USATF) Officials Certification Chair for the Gulf Association.